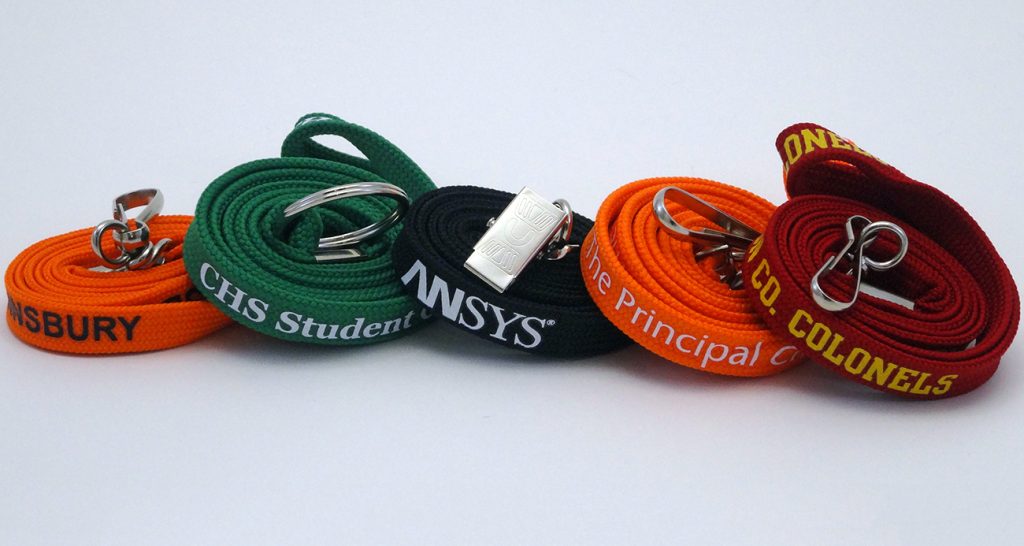 It's easy to create custom lanyards. Lanyards can not only be used as your ID holder but also become a promotional and fashion object. However, high quality lanyards also have many other functions. The Military uses lanyards to secure their small size weapons. Business people can use the lanyards to promote their new products or brand.
The first step to making custom lanyards is choosing the right material and style. You can choose from a variety of sizes and styles of neck straps. The most popular and affordable type of lanyard is the imprinted polyester material.  Custom imprinted lanyards (also called silk screen lanyards) allow for great detail and multiple colors. We use a high quality durable silk screen process that will not rub off or smudge. We also offer embroidered lanyards, these custom woven lanyards start with a strong polyester material dyed to your specified color choice. Then your design is stitched directly into the fabric of the lanyard making a high quality, long lasting lanyard that you'll be proud to share. For the most detail choose Dye Sublimation Lanyards, the high quality silk lanyards with a full color dye sublimation printing.  This is the highest quality, softest, smoothest lanyard you can buy. 
Custom lanyard attachments
There are many custom lanyard attachments to choose from when you create custom lanyards. Take a look at the options we offer. Choose what fits your needs best. This is where function comes in to play. Do you need them to break off? Need them to swivel? Talk to one of our team members to help choose the right lanyard attachment for you. We also have badge reels and badge holders if you need to use your lanyard to hold an ID card or event pass.
Upload your design on our free quote form. It can be a finished logo or it can just be a rough sketch of an idea. Most lanyards will just have text so you can enter that in the form as well. You could also email us with your idea at info@qualitylapelpins.com. Speak with one of our trained artists at 1-800-952-0305 and they will be happy to assist you. If you do have a logo or artwork you will probably want to go with a Dye Sublimation lanyard. We hope this helps with any questions you have and we look forward to working with you! Request a free quote to get pricing info and a digital proof of what your lanyards will look like. There is no obligation to buy to get started today!