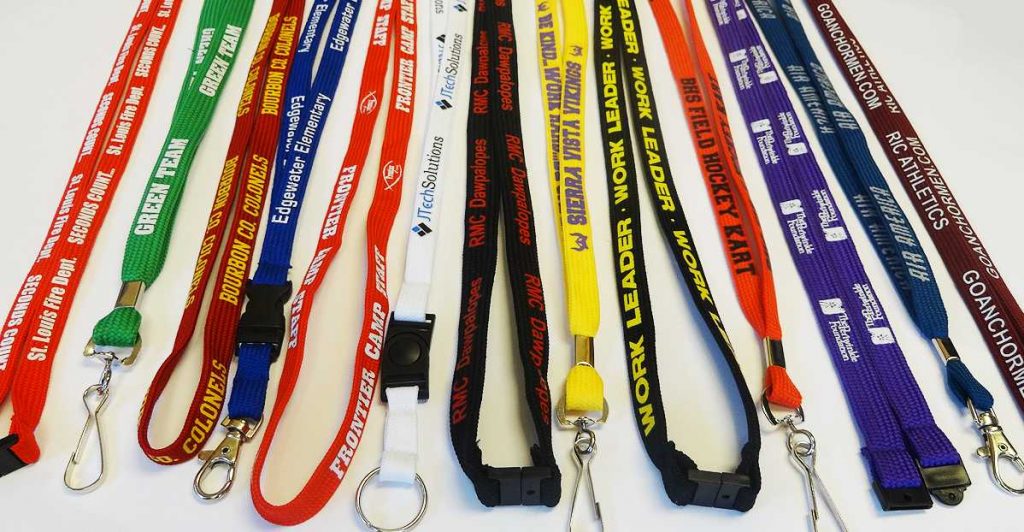 If you need custom lanyards made, your first choice is what material to make them out of. This will also determine how you can print on your custom lanyards. The accessories are the most important section on the lanyards, and the accessories can be divided into two parts: lanyards attachments and safety breakaways (also called optional release attachment). Today, we have chosen all types of the attachments and safety breakaways used in our life and introduce them in details.
Material Options
Custom Polyester Lanyards. The most popular and affordable type of lanyard.  Custom imprinted lanyards (also called silk screen lanyards) allow for great detail and multiple colors. We use a high quality durable silk screen process that will not rub off or smudge.  Your lanyards will be completely custom made for you: you choose the text, you choose the logo, you choose colors, and you choose the attachments.
Custom Embroidered Lanyards. Our custom woven lanyards start with a strong polyester material dyed to your specified color choice. Then your design is stitched directly into the fabric of the lanyard making a high quality, long lasting lanyard that you'll be proud to share. When you order your lanyard from us, your lanyard will be completely custom made.
Dye Sublimation Lanyards. High quality silk lanyards with a full color dye sublimation printing.  This is the highest quality, softest, smoothest lanyard you can buy.  The printing technique allows for unlimited colors, making them perfect for complex multi-logo designs. The printing is dyed directly into the fabric, so there's no smudging, breaking down or wearing off. Once the image is transferred into the lanyard it is permanent.
Imprinted Shoelace Tube Lanyards. Our custom imprinted shoelace tube lanyards use our high quality printing process, but on the polyester shoelace tube lanyard material instead of the usual flat ribbon material. These shoelace tube lanyards are usually half of an inch wide, making for a thinner but still substantial lanyard.
Custom Nylon Lanyards. Our imprinted nylon lanyards use our same high quality imprinting process, but the lanyards are made from nylon instead of polyester. The fabric is a bit stiffer, but is very shiny and smooth. The nylon lanyards feel a little more hefty and substantial than the polyester lanyards.
Attachment Option
Swivel Hook – Our most common attachment. Durable, versatile, and great for many different uses.
Split Ring – Sometimes called a key ring. Perfect if the lanyard will be used for keys.
Key Clip – Similar functionality to the swivel hook, but stronger. The spring loaded latch is very easy to open.
Badge Clip – Also called a bulldog clip. Perfect for lanyards that will hold badge holders or credentials.
Key Grip – Much like the swivel hook and key clip, but heavier duty. The spring latch is pushed down to open it.
Loop Clip – Also called a lobster claw. It is made from thick metal and is very strong and durable.
Plastic Swivel Hook – Much like the swivel hook, but made of strong plastic. Perfect for lanyards that can't have metal.
USB Buckle Loop – A small loop for USB drives or other electronics. It is also a buckle to detach it from the lanyard.
Rubber O- Ring – A large black rubber "O" ring mostly used for attaching a water bottle to the lanyard. Different sizes are available.
Split Ring With Badge Clip – The split ring is sewn into the lanyard, then the badge clip and the loop attaches the badge to the split ring. Allows for easy removal of badge.
Carabiner Clip – A small metal carabiner clip. Very durable. Standard color is black. Ask about additional colors that may be available.