Badge holders are a necessity when you are using lanyards to hold badges, credentials, tickets, or passes. They are made to work well with all of our lanyard attachments, but they work best with the badge clip or the clear plastic snap. Our plain clear badge holders are the most popular, but we also offer badge holders with custom printing on them.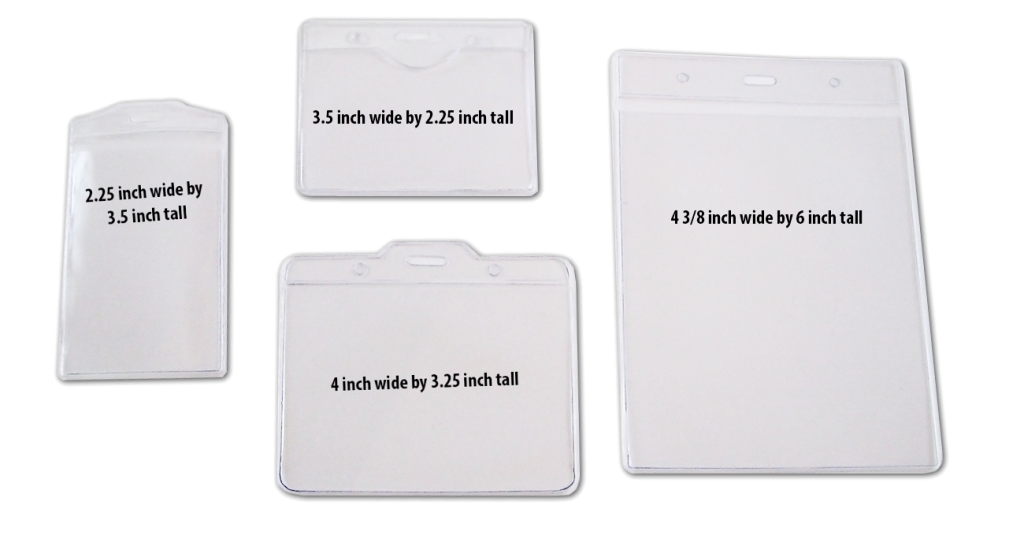 Our standard badge holder sizes are 3.5 inches high by 2.25 inches wide, 2.25 inches high by 3.5 inches wide, 3.25 inches high by 4 inches wide and 6 inches high by 4.375 inches wide. These sizes are good for most applications, however we can make badge holders in custom sizes if our standard sizes aren't right for you.
We offer great quality plastic badge holders in either vertical or horizontal formats to fit your card requirements. Pair them with our great lanyards (or use your existing ones) to create lanyard I.D. holders. They're the ideal way to keep I.D. badges, key cards and similar items conveniently on display and ready for use.
When it comes to badge holders, you just can't beat the value offered by Quality Custom Lanyards. Our badge holders are available in your choice of vertical or horizontal formats, whichever serves your needs best. We can match these top-quality plastic holders with any of our custom lanyards or badge reels to offer you an unbeatable value combination.
Of course, our badge holders, like every other product we sell, are backed with our 100% Satisfaction Guarantee. If you should find one that's defective in materials or workmanship, we'll replace it at no extra charge to you. It's all part of our commitment to offering you the best quality, lowest prices and best customer service you'll find anywhere.
If you'd like more information about any of our products, including our full range of customized lanyards, please let us know. Just call, email us or fill out our no-obligation Free Quote form. We're always happy to answer any questions you have about badge holders, lanyards or any of our other great products. We'll respond fast, typically in less than 24 hours. We look forward to serving all your badge holder, custom lanyard and badge reel needs!
GET YOUR FREE QUOTE
With no obligation to buy, what do you have to lose? See what your lanyard will look like and receive our exclusive industry low pricing.
Large file attachments may take a little time to upload, so please be patient, you'll see a green confirmation once the quote has successfully sent.
Frequently Asked Questions
Why Order Custom Lanyards From Us?